Timeline of the Sanctions Imposed on Russia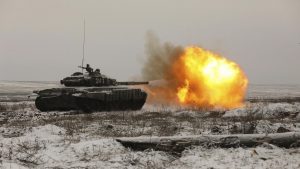 In the recent days, Russia began its offensive in several Ukrainian cities, as a result of which, sanctions, stemming from all around the world, got imposed on Russia. The following article shall encapsulate the sanctions which have been adopted so far in terms of their date of applicability, with further information being found and provided concerning the chronological order of the events.
22nd February 2022 – The Russian parliament authorised Putin to use military force outside the boundaries of Russia. 
23rd February 2022 – Ukraine declared a nationwide state of emergency. 
23rd February 2022 – Prohibition on new loans or credit concerning Russia, its Government, or the Central Bank of Russia. 
23rd February 2022 – Restrictive measures regarding the non-government-controlled areas of the Donetsk and Luhansk oblasts of Ukraine and the ordering of Russian armed forces into those areas by means of Council Regulation 2022/263.
24th February 2022 – Russia launched a full-scale assault in Ukraine. The President of Ukraine ordered a full immobilisation of the country. 
25th February 2022 – Russian forces reached Kyiv and seized Chernobyl nuclear power plant. The European Union agrees to place Putin and Lavrov on its list of sanctioned individuals.
25th February 2022 – The mayor of Kyiv imposed a curfew in Kyiv as Russian troops advanced towards the capital.
26th of February 2022 – European Commission chief Ursula von der Leyen announced that Russian aircraft will be banned from the Union airspace and  Russian state-owned media, such as Russia Today, Sputnik and their subsidiaries were banned from EU airwaves and the internet.
27th of February 2022 – Russian troops pressed towards Kyiv, Kharkiv and Kherson.  Europe said that it will bar Russian banks from SWIFT internet banking system; hence, banning them from the global financial system.
28th February 2022 – Ukraine applied to join the EU. Suspension of Agreement between the European Community and the Russian Federation concerning the issuance of visas.
28th February 2022 – Russian air carriers, any Russian-registered aircraft, and any non-Russian-registered aircraft which is owned or chartered, or otherwise controlled by any Russian natural or legal person, entity or body, are prohibited from landing in, taking off from, or overflying, the territory of the Union by means of Council Decision (CFSP) 2022/335.
28th February 2022 – A 64-kilometre-long convoy of Russian tanks and armoured vehicles was spotted via satellite on a road to Kyiv.
1st March 2022 – Human Rights Watch reported that Russians are using cluster bombs against civilians.  A Russian missile stroke the square in front of the Kharkiv administrative building, blowing off its roof.
2nd March 2022 – The UN General Assembly adopted a non-binding resolution condemning Russia for its invasion of Ukraine and demanding its immediate withdrawal. 
4th March 2022 – Russia banned Facebook and restricted access to Twitter. According to the state media watchdog, there was throttling of  access to information on Facebook. The Ruskomnadzor media watchdog said that Facebook was discriminating against Russian media by imposing restrictions on media outlets such as Russia Today and the military TV channel Zvezda. CNN, BBC and Bloomberg News announced that they will temporality suspend their work in the territory of Russia as a new law was imposed saying that anyone that allegedly spread disinformation about the arm forces may be put in jail.
4th March 2022 –  During the Russian military invasion, a fire broke out at Europe's largest nuclear power station,  the Zaporizhzhia power plant in the southern city of Enerhodar. 
12th March 2022 – Providing specialised financial messaging decides which are utilised to exchanges financial data (SWIFT) to Bank Otkritie, Novikombank, Promsvyazbank, Rossiya Bank, Sovcombank, VNESHECONOMBANK (VEB), and VTB BANK' or to any legal person entity or body established in Russia whose proprietary rights are directly or indirectly owned for more than 50% by an entity listed in annex XIV has been prohibited.