BMW set on fire in Msida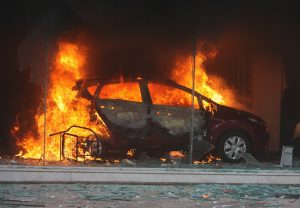 Mustafa Ozturk, a 34-year-old man from Turkey, who currently lives in Luqa, admitted to setting a car on fire in Msida. He pleaded guilty as there was no one inside the car at the time of the accident. On 26th of February, at 5:45 am, police and members from the Civil Protection Department were called to put out the fire in Msida, after which the investigations started. It was reported that the car was totally damaged and an expert was thus appointed to estimate the wreckage and the value of the vehicle at the time of the arson. Such information is always needed for the court before giving a sentence. 
Five days after the commission of the offence, the police found the whereabouts of the criminal, who proved to be with a perfectly clean criminal record. The prosecuting Inspectors Jeffrey Scicluna and Jonathan Ransley confirmed that the man, who worked as a shop manager, had cooperated fully and admitted to the commission of the crime at the early stage of the proceedings. The court warned the suspect that in case of admission, he risks a possible jail term between two to four years. The man admitted that he set the car on fire and the Court granted him bail pending judgement under various conditions, including signing the bail book twice weekly, a deposit of €600 and a personal guarantee of €4400. The Court will render a judgement once the expert reports are done.
Author: Stephanie Marinova